Real Estate
&
History Blog

Question - how can a solid, presumably very heavy statue get around town so much? Wait, it gets better - it's been run over & even blown up two times. Do you know the story about the travels of this statue? Let me tell you.


| | |
| --- | --- |
| The statue was designed by sculptor John Gelert in 1889. It was memorial to slain policemen. On the base it says, "In the name of the people of Illinois I command peace" It was unveiled in the middle of the Haymarket Square on May 30, 1889. (Essentially Randolph & the Kennedy today) Things should have been pretty boring for that statue from then on...but not quite. | |

The statue initially was created in memory of the policemen killed in the violence of the 1886 Haymarket Riot. The funds for the statue was raised by members of the Union League Club of Chicago.

The first incident happened on May 4th, 1927. A streetcar jumped its tracks and crashed into it. The driver said he was sick of seeing that policeman with his arm raised. The city fixed the statue and moved it to Union Park the next year.

The Kennedy was built in the 1950's and the statue got moved over to the original Haymarket Square area overlooking the new expressway. In October 1969 the statue was destroyed by a bomb. The Weathermen took credit for this. By May the next year the statue was rebuilt and set back on its base. Five months later, it was blown up again by the Weathermen.

You'd think the city would give up but did they? No way. Mayor Daley had it rebuilt now for the third time and placed in the lobby of Police Headquarters. Four years later for some reason he was moved to the courtyard of the Chicago Police Academy. When the new Chicago Police Headquarters was built at 35th and South Michigan Avenue, there was the statue outside the building. It seems to be living a very quiet life there...so far.

Powered by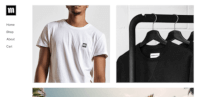 Create your own unique website with customizable templates.
Photo used under Creative Commons from Danijel J