Real Estate
&
History Blog

In my last post I showed you how Louis Goldblatt's Wilmette estate if for sale. Located at 15 Linden in Wilmette, Louis' magnificent home was built in 1941. Just a bit north of that home sat the home of his older brother Nathan, 612 N Sheridan Road. Nathan's home was built by noted Chicago architect and developer Benjamin Marshal in 1921 for himself. The home was unconventional as its original owner.


Born in Chicago in 1874, Marshall lacked a formal architectural education but compensated with drive, imagination and social connections. He apprenticed for a Chicago architect, then set up his own shop after the century turned. One of his commissions, the Iroquois Theatre, was the site of a disastrous 1903 fire that caused the deaths of more than 600 people. Yet Marshall's star continued to ascend.

Today we are surrounded by Marshal designs - The Blackstone and Drake Hotels, the South Shore Cultural Center, the Edgewater Beach complex, and the Cuneo Mansion in Vernon Hills as well as several grand east Lake Shore Drive residences.

Built in 1921 -- not as a home but as a place to entertain lavishly, according to a 1948 Life magazine article-- Marshall's 32-room, pink stucco Wilmette mansion (below) was outfitted with rooms for exotic partying, including a tropical garden and Egyptian solarium.



From the Benjamin Marshall Society Facebook Page:
"In designing his (1921-1924) home and studio in Wilmette, Benjamin Marshall gathered exquisite and rare objects and elements from all over the world.

This is the glass enclosed two-story garden and swimming pool, with a ceiling and windows that would open with the touch of a button.

The garden in the 75' x 110' x 50' space was lined with tropical palms, hanging ferns, and other rare plants. The swimming pool was lined with turquoise tiles from Algiers."

Marshall sold the place in 1936 to department store executive Nathan Goldblatt, including the interior furnishings as we see in this Chicago Tribune article about the sale.


Nathan Goldblatt's family lived in 612 N Sheridan from 1936 to 1948. We can see in this 1948 Chicago Tribune article that the home was still pink and most likely still contained a number of Marshall's distinct furnishings. It is my guess that the home did not sell so the Goldblatt family then offered it to Wilmette and the village shortsightedly turned it down.


The former Goldblatt properties today:

Powered by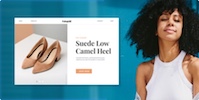 Create your own unique website with customizable templates.
Photo used under Creative Commons from Danijel J